Url Text Phone E-mail SMS
What is QR Code Generator?
QR Code Generator is a free online tool to create QR codes easily. With this tool, you create QR codes from and URL, Text, Phone number, Email address and SMS.
You can use the QR code on your website, visiting cards and various other designs so people can simply scan the QR code and contact you.
How to use this QR Code Generator?
It is very simple to use this free tool.
1. First choose the type of QR code you want to create. It can be an URL, Text, Phone Number, Email, or an SMS.
2. Next write the content that you want to add to your QR code.
3. Now just click on Generate QR Code button.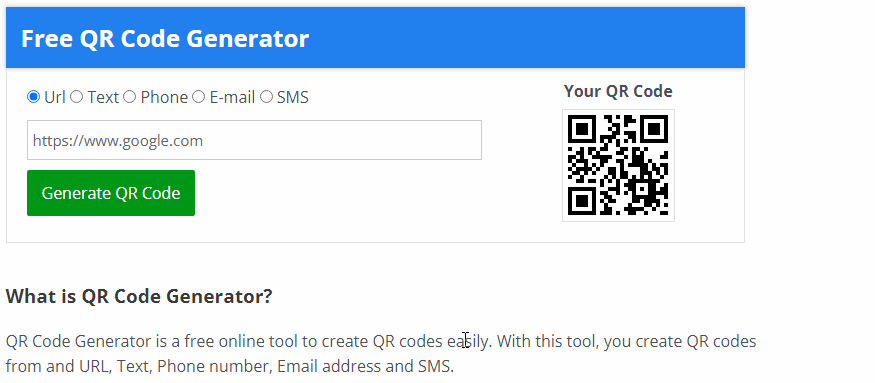 4. Once your QR code image is generated, just right-click on the image and click on "Save image as" and save it.
Thank you for using our tool.
Here are some of my favorite website building tools
Thanks for reading the article I hope it was helpful for you. Here are some of my favorite tools that I always use and recommend for website building I hope they will be helpful for you. Please note these are affiliate links, if you do purchase anything using my links I'll earn a small commission.
Web Hosting: For a new website I like GreenGeeks, I'm using it on this site for over a year now without any problems. They have very affordable plans for beginners and the support is reliable. Their simple setup will get you off and running in no time.
Learn Front End Development: If you want to learn front-end development I recommend Pluralsight, learn from industry professionals. You can try the no-risk 10 days free trial and check the content.
Advertising Network: If you want to increase your ads revenue with Adsense then try using Ezoic, unlike most ad networks it doesn't need any minimum traffic to get started. It is completely free to use.